The robo-hotel breakfast was predictably efficient, so we got the bikes out of the cleaner's cupboard ('the owner doesn't like to see them in the rooms'), and headed out into the bright Sunday morning for about 8-30am.
We zipped past the many lay-bys and bus stops along the way - and put our 'Revised Plan' into action. This involved taking advantage of the progress we'd made the previous day, and following a more interesting route along the Med coast line. We hit the seaside proper at about 11-00 am, and after having an unseemly dispute with a man driving a tourist train with reckless abandon, we found a cafe.
As is customary, we parked the bikes next to the vilest bins the town had to offer, and as we were leaving the local refuse collector turned up tab in hand. I asked him in beautiful French if we needed to move our bikes, and he said no. Then he asked, 'Are you lads English??' in perfect East-End-minor-criminal-escaping-extradition stylee. He then went on to tell us he'd been there for 24 years and knew everything there was to know about the area. I was just about to congratulate him on how well he'd done for himself, when Dave stepped in with a 'Well, we must press on!'...
As we rattled through the beautiful Camargue, the sun burned off the low cloud and things got hot. Stopping for lunch (another ham baguette and a bloody lovely tarte pomme - washed down with 2 cans of Orangina), we enjoyed watching the boats drift in and out of the canal at Le Grau du Roi.
Then, after slavering on a handful of arse-cream, sun tan lotion and lip salve (it's a hygiene Russian roulette), we hit the road for an afternoon of pain.
Temperatures hit 28.9 degrees, but it turns out we are men of steel and can handle it. We rolled into Arles at about 5-00pm - hot and triumphant, and once we'd booked into the v pleasant Le Cheval Blanc hotel, we hit the laundrette across the street and did what men do - asked a lady how the machines work, put in insufficient money and detergent for the advice given, then withdrew for two pints of lager.
I now have a hotel room full of drying clothes - some of which are mine. Let's see what tomorrow brings...
Paul Carter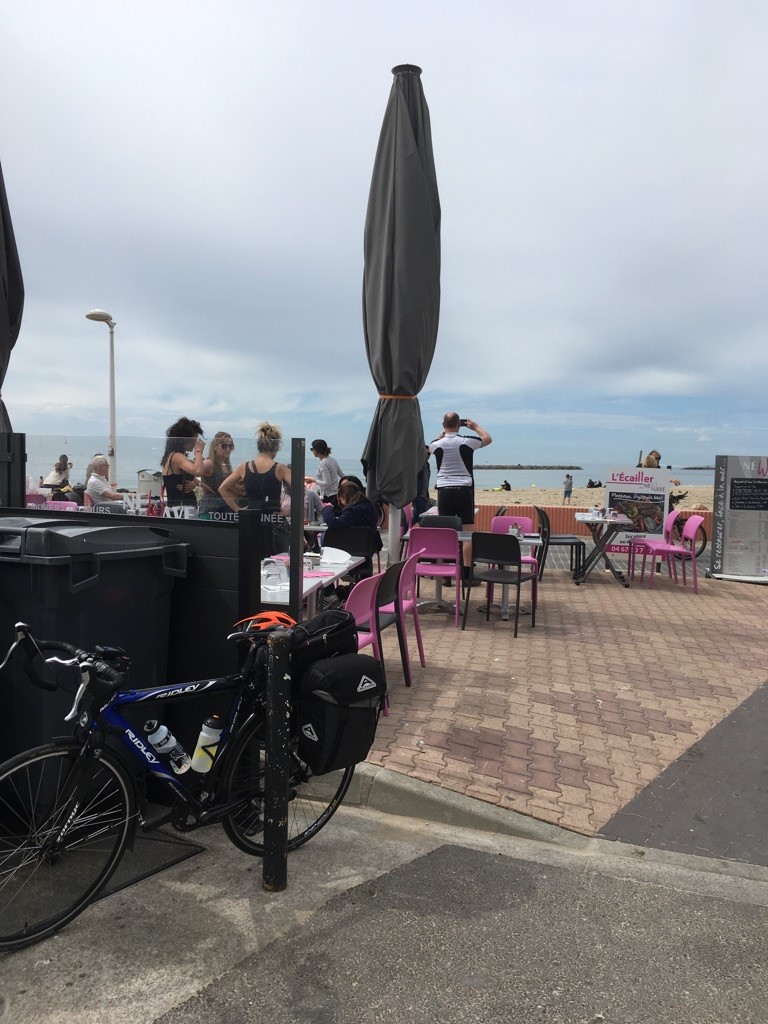 A bike, some bins, and if you look hard - Dave photographing the Med.
Hot hot hot... Gimme shelter - and a hairdo like the bloke out of Prodigy...
If you visit this shop in Arles, the chances are you aren't a bloke, and you probably believe that the stork brings babies.
Chaps, there's a cracking scrapyard on the ring road...